---
Widely adopted by the food, electronics, stationery toys, fruits salted materials, meta slwares, tool, cosmetic, drug, clothing daily-use products, electrical appliances, bamboo ware, etc, industries for shrink packing purpose.
BSF-5545 Fully Auto Cut-Sealing Mc.:
1. Adopt aluminum alloy cutter with DUPONT Teflon coating that is thermostable and antisticking to ensure good sealing without cracking, coking or any smoke pollution.
2. The film feeding length is controlled and regulated by magic eye and counter. There is an inductive motor for auto collection of film waste.
3. Equipped with two sets of imported photocells, one is used for horizontal detection, the other is for vertical detection, which are easy to switch. The machine can achieve packaging work easily even for thin and small package.
4. Adopt digital temperature controller with PID function. Sealing temperature is extremely sensitive and accurate, which can be regulated at will. The cutter itself has function of auto protection in order to avoid wrong cutting.
5. Simple size changeover. No need to exchange any moulds or any bag making devices.
6. The equipment can be used to pack different sizes of products together for sales promotion
7. There is an organic glass safety cover with alarm function around the sealing & cutting part of this machine in order to ensure safety of operator.
8. The machine can be connected with the production line to carry out unmanned operation.
Model
BSF-5545
Machine Size
1700mm ×960mm × 1400mm
Machine Weight
245公斤
Speed
arround 15-20 pcs/min
Electrical
220 50HZ
Power 1.3KW
Air Supply
6-8KGS/CM2
Max. Product Size mm
450× 350× 130
Cutter Length mm
Horizon Cutter 550;Verticle Cutter:450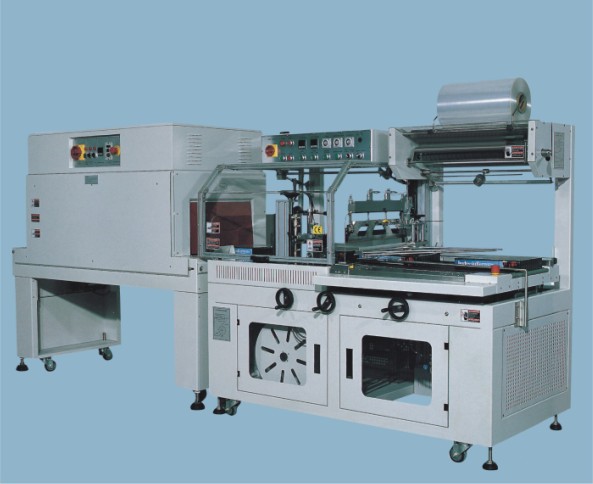 BSF-5545LE Fully Auto Side Sealing MC.:
Side Sealing Machine is available with center fold film to seal three sides, perpendicular drive horizontal sealing, constant temperature side sealing,
it adopt automatically or manually feed type, it suitable for fully automatic shrink wrapping.

1. Continuous side sealing without product length limit.

2. High packing speed can reach to 20-60 pcs/minutes.

3. Sealing system controlled by servo motor ensures accurate position and perfect sealing.

4. Sealing knife with automatic protection function, effectively prevent mistakenly cutting object.
MODEL
BSF-5545LE
Machine Size
1680mm ×975mm × 1500mm
Machine Weight
125公斤
Speed
arround 20-60 pcs/min
Electrical
380 / 220v
Power: 1.8KW
Max. Height mm
150
Max. Packing Size mm
W430 ×L unlimited
Cutter Length mm
450
BSL-5045 Semi Auto Cut Sealer:
BSL series semiautomatic L-seal cutting machine can convey the products automatically into shrink tunnel through conveying belt for shrink packaging after sealing & cutting. Equipped with shrink tunnel to reach higher working capacity.
Features:
1. There is protection mechanism for sealing knife against overheating and cutting.
2. Adopt nano-fiber cutter holder and antisticking thermostable nichrome cutter for sealing & cutting to ensure good sealing without cracking or coking.
3. After sealing action, packing product goes in the shrink tunnel automatically by the conveyor belt.
4. The height of conveyor belt can be adjusted with handwheel.
5. Sealing & cutting time is controlled by time relay accurately.
6. Double electromagnets are used to produce more pressure for sealing, which will make sealing much firmer.
7. Sliding film support can keep all kinds of shrink films, up to 550mm in width.
8. Upper sealing & cutting frame is controlled by return cylinder.
9. BSL-5045LA adopt pneumatic device.
Application:
1. BSL series semiautomatic L-seal cutting machine is suitable for shrink packing electronic products, hardware, software, foodstuff, printing, pharmacy, floor, ceramics etc in small amount.
2. Applied to all kinds of packing materials, such as PVC, POF, PP.
Model
BSL-5045
Machine Size
1560mm × 757mm × 1040mm
Max. Product Size
530mm × 320mm× 120mm
Machine Weight
125公斤
Capacity
約800-1200 件/小時
Electrical
220v 50 HZ
Power: 1.2KW
Conveyor Speed
0-8M/MIN
Other Simple Tools: Foot cut sealer & table type cut sealer